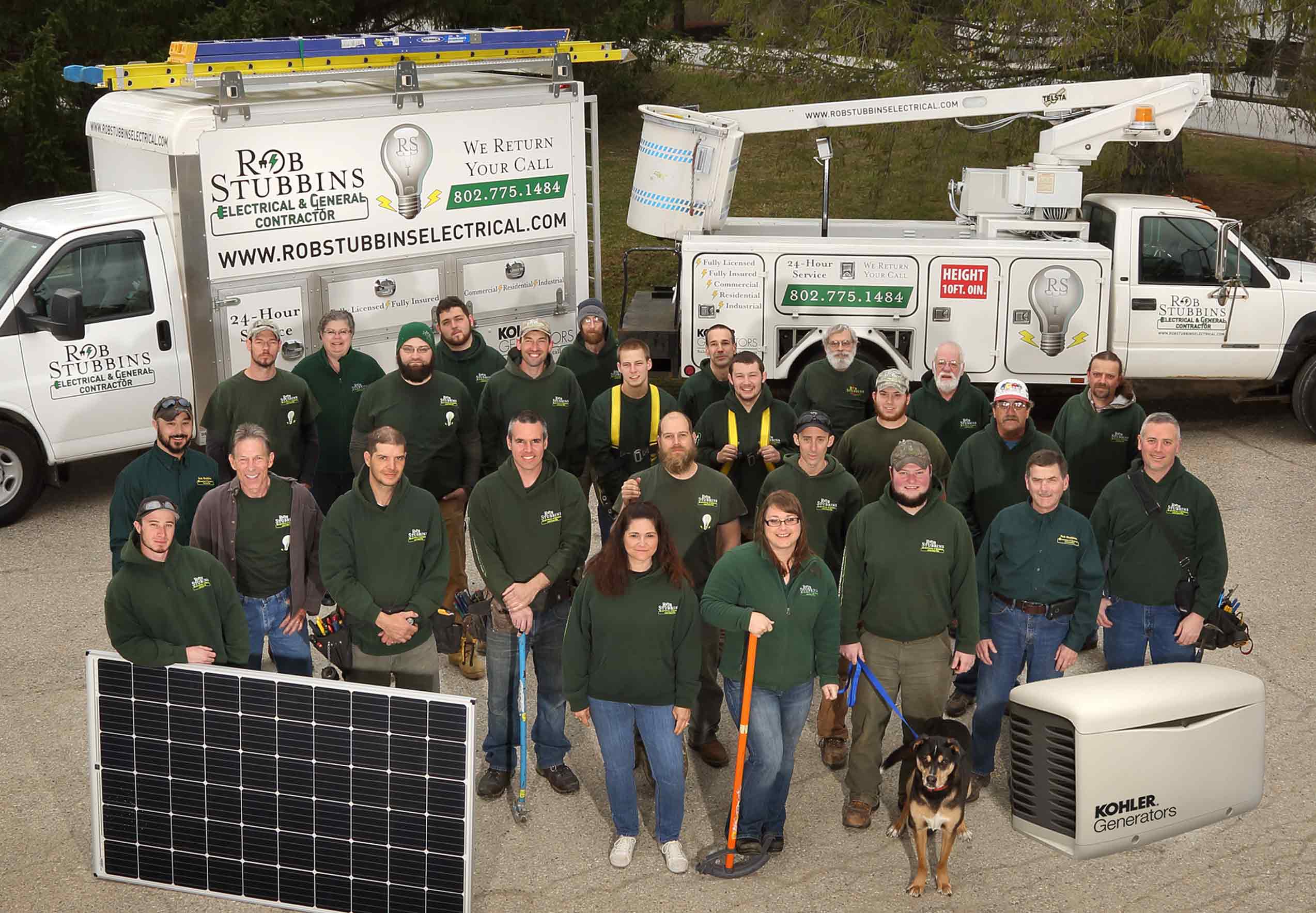 Jobs for Electricians in Rutland Vermont
We have jobs for customer service-oriented team players. At Rob Stubbins Electrical and General Contractors, we want the best of the best on our team. Safety, teamwork and customer service are our top priorities always.
If you have an interest in working on our team, please email your resume or fill out our application and submit it right here on our website.
Current Job Openings:
Leadership: Lead Solar Installer
Job Title: Lead Solar Installer
Reports To: President and Operations Manager
Job Overview: The Lead Solar Installer supervises and participates in the installation, modification, maintenance and repair of PV systems. In this position, the Lead Solar Installer will oversee one or more crew members as assigned based on job requirements. The Lead Solar Installer is responsible for all communication, record keeping and maintaining a safe working environment.
Responsibilities and Duties:
• Supervises employees and participates in the construction, installation, modification, maintenance and repair of PV systems and related devices by interpreting blueprints, manufacturers' specifications, and written and verbal instructions.
• Plans work to ensure proper distribution of assignments and adequate staffing, space and facilities for subsequent performance of duties.
• Trains and instructs new employees.
• Provide constructive feedback to co-workers based on observed and reviewed work.
• Prepares reports and analyses indicating work progress, adverse trends, and appropriate recommendations or conclusions.
• Communicate employee performance based on observed behavior, skills/abilities and critical thinking skills to President and Operations Manager.
Qualifications:
• Management/Leadership experience
• 2 years' experience in residential PV design, installation, repair and maintenance.
• Ability to multitask and observe multiple work areas
• Certification Requirements:
• Journeyman Electrical License
• OSHA 10
• NABCEP (with in first year of employment)
• Skill and Abilities
• Ability to climb and work on roofs
• Ability to lift more than 50lbs
• Great critical thinking skills
• Outgoing, friendly, organized and great communication skills
Now seeking qualified Electricians, Journeymen and Apprentices
Do you have the skills of an electrician or are you interested in learning a skill that can develop into a long and rewarding career? We have openings for people that are eager to learn and those that already have a wealth of knowledge and experience.
Join our team!